SPSTI, in association with Chandigarh Chapters of NASI, INYAS-INSA, FRVCD & CRIKC has initiated 3rd lecture series – Expository Lectures by Decorated Teachers-Scientists from Chandigarh Region in Amrut Kaal (2023-47).
Prof. Rajat Sandhir delivered an expository talk on ChatGpt in Teaching and Research on ever of Teachers Day at Panjab University, Chandigarh.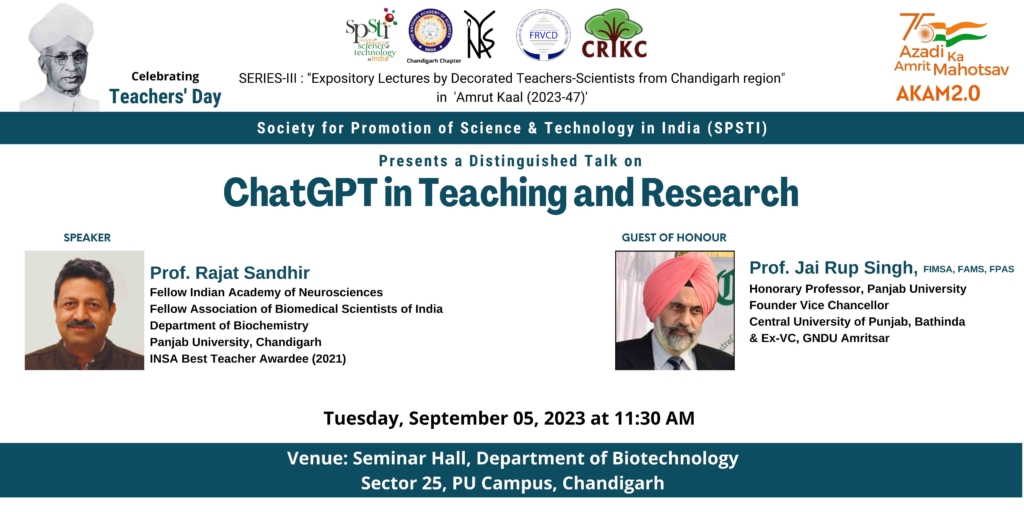 The emergence of advanced artificial intelligence technologies is having profound impact on many fields, including education and research. It offers exciting opportunities for students and educators, including personalized feedback, increased accessibility, interactive conversations, lesson preparation, evaluation, and new ways to teach complex concepts. However, ChatGPT poses different threats to the traditional education and research system, including the possibility of cheating on online exams, human-like text generation, diminished critical thinking skills, and difficulties in evaluating information generated by ChatGPT. It is important to keep in mind the limitations of ChatGPT when using it, and it should not be relied upon blindly. In addition, the ethical implications (e.g., bias and discrimination, privacy and security, misuse of technology, accountability, transparency, and social impact) of ChatGPT are complex and multifaceted and should be carefully considered. The potential opportunities and threats that ChatGPT poses to overall education from the perspective of students and educators needs to be understood.