Science Fairs or Vigyan Melas have been one of the effective ways that help students, teachers and science communicators learn from each other's experiences. Developing Scientific attitude is the key objective behind organizing the vigyan melas. The general model constitutes the exhibition by science communicators working in different domains and participation of students and teachers from the schools generally within the radius of 20-30 kms.
One of the flagship programs of SPSTI has been the Mobile Science Laboratory – Circus of Science 'Vigyan Ka Jantar Mantar' launched in 2016 from Karnal, approaching the masses with the motive of scientific awareness. The current phase of Circus of Science is operating with support from Haryana State Council for Science, Innovation & Technology, Govt. of Haryana and National Council for Science & Technology, Communication, DST, Govt. of India in several districts of Haryana.
A three days' State Level Science Awareness Mela was organized by the Punjab State Council for Science & Technology, at Govt. Senior Secondary School, Village Sandhu Patti, Barnala (Punjab) on November 2-4, 2022. The science fair was convened by Dr. K.S. Bath, Joint Director, PSCST. Stalls were set-up on Climate-Change, Origami, Food-Adulteration, Hydroponics, Science behind Miracles, Science Communication through Puppetry, Lab on Wheels, Visual Explanation of Geometrical Theorems, Fun with Chemistry and the Circus of Science. Other activities included Quiz, Essay, Poster and Declamation Competitions. The three days event witnessed participation of more than 1000 students and teachers from different schools of district Barnala.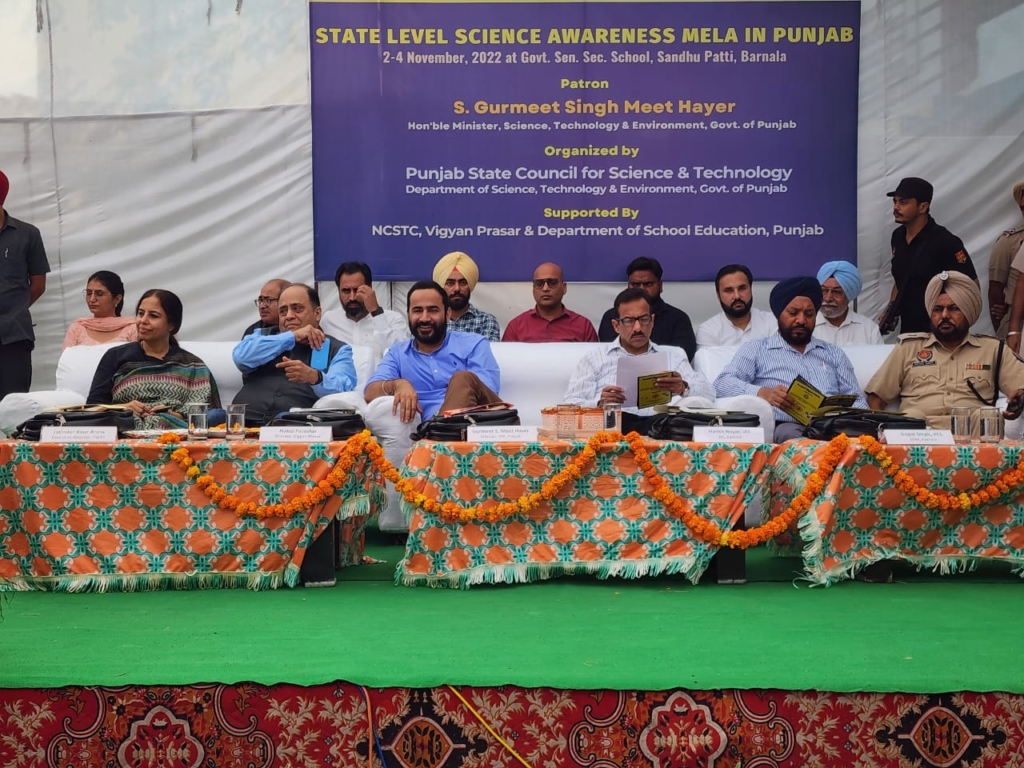 The Science Awareness Mela was inaugurated by Shri Gurmeet Singh Meet Hayer, Hon'ble Minister, Science & Technology, Punjab. Dr. Nakul Parashar, Director Vigyan Prasar, Dr. B.K. Tiwari, formerly at Vigyan Prasar, Dr. Jatinder Kaur Arora, Executive Director, PSCST, Deputy Commissioner and SP Barwala were the invited Guests of Honour. The Circus of Science Exhibition was conducted by the team of SPSTI led by Er. M.L. Garg, FIE, Science Communicator & Social Entrepreneur and Mahi Paul Sharma, Coordinator, SPSTI. The resource persons Aman Kumar, Gulshan Kumar, Hanish Kumar and Sheeshpal actively engaged the students, teachers & other visitors of the Vigyan Mela in different activities of the Mobile Science Laboratory.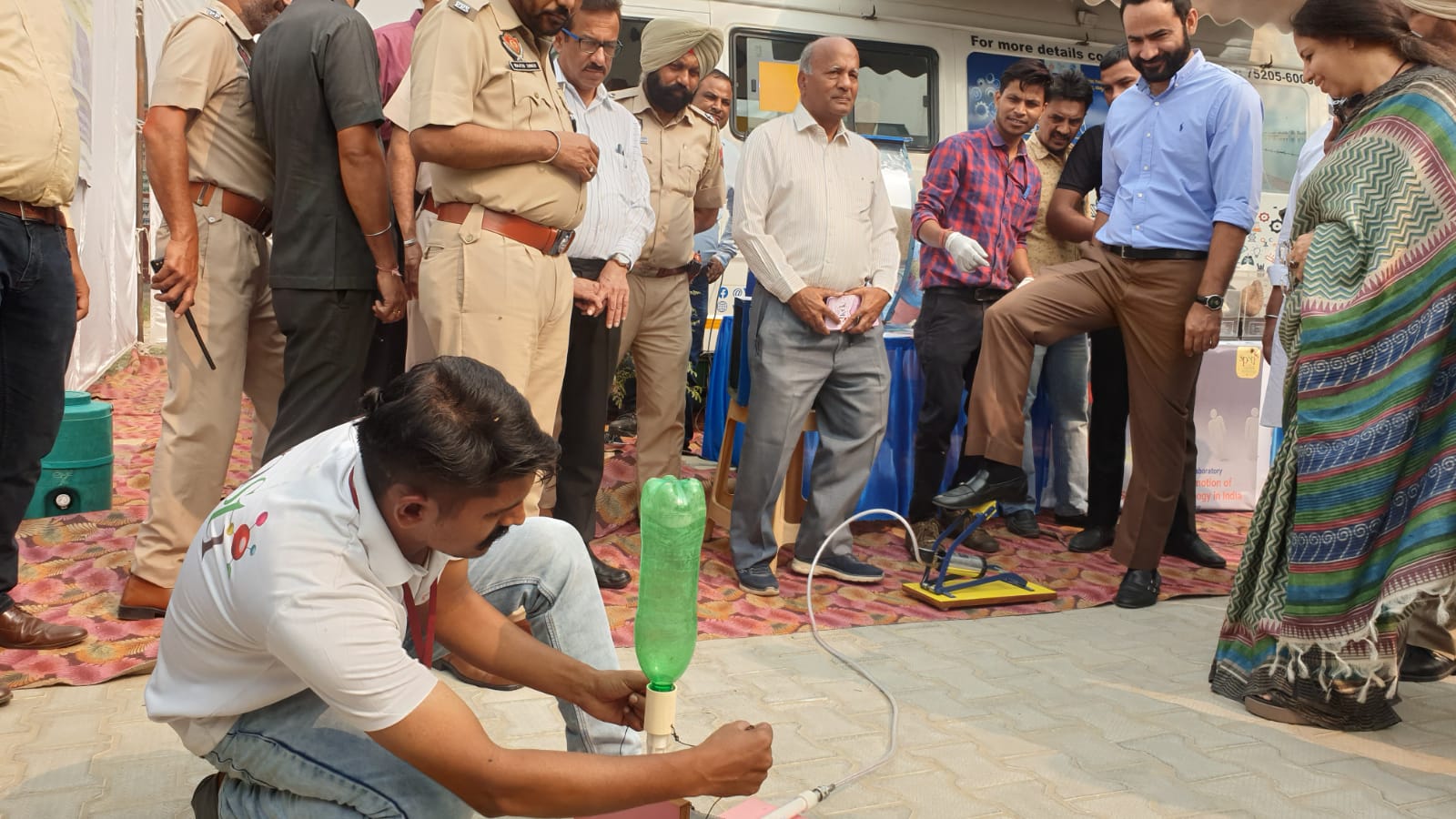 The Mobile Science Laboratory managed to set activity corners on Physics, Chemistry, Mathematics, Astronomy, Low-Cost Experiments and 3-D Printing technologies. During this three days event, a large number of students of classes 6th to 12th from different blocks of district Barnala visited the Lab. The resource persons demonstrated experiments and engaged the students in scientific activities.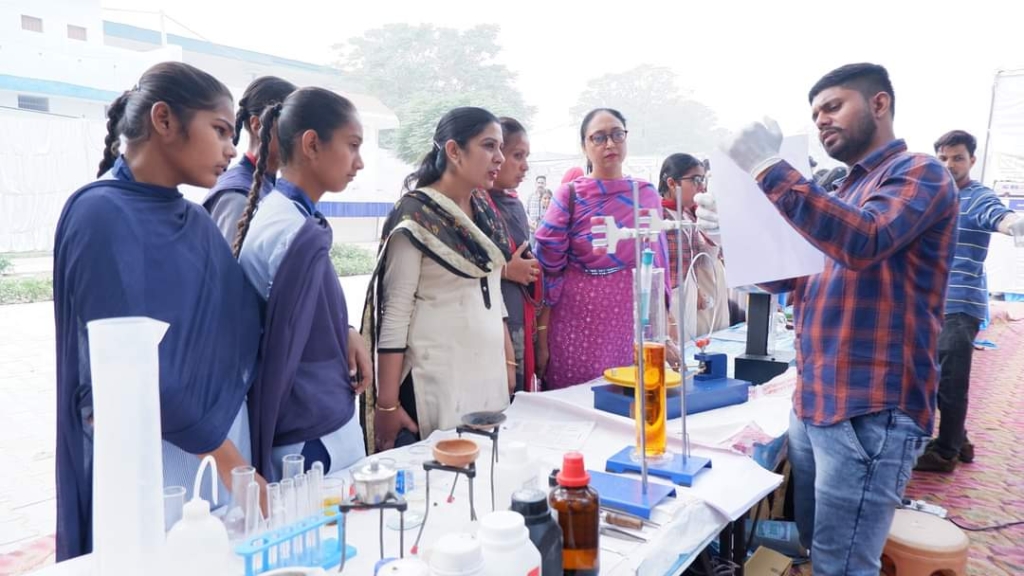 An evening astronomical event 'सितारों से मुलाक़ात' was conducted on the second-day of Vigyan Mela in which more than 100 people participated. Refractor and Reflector type telescopes were used to gaze at the surface of moon. Many digital sky navigation techniques were demonstrated among the people so that they could identify and locate the planets and constellations in the night sky.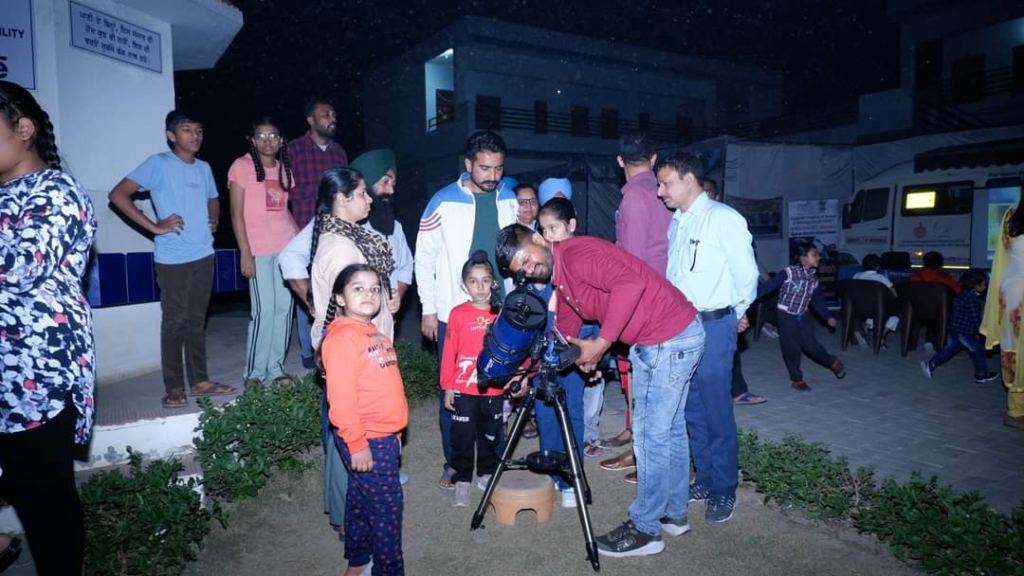 Further, movies of scientific interest were screened in the Open Science Theatre of the Mobile Science Lab.