SPSTI in association with Chandigarh Chapters of NASI, INSA and INYAS organized an online memorial meeting to pay tributes to Dr. Srikumar Banerjee on Sunday, May 30, 2021 at 11.00 am. The meeting was attended online on zoom by more than 60 attendees and about 189 viewed the same on Facebook page of SPSTI. Attendees included a wide spectrum of mentors, colleagues, collaborators, mentees and admirers of Dr. Srikumar Banerjee from India and abroad.
The meeting was steered by Prof. Keya Dharamvir, General Secretary, SPSTI, who welcomed the attendees. Shri Dharam Vir, IAS (Retd.) & President SPSTI shared that it was first Haryana Science Conclave where Dr. Banerjee and several other distinguished scientists interacted with the teachers and students. Prof. Arun K. Grover, former Vice Chancellor, Panjab University, Chandigarh and Vice President of SPSTI said that Dr. Srikumar Banerjee had wide range of contributions and achievements during his over five decades of association with Department of Atomic Energy and other national bodies and institutions.  Dr. Banerjee was scheduled to deliver the TIFR Foundation day lecture in the commemorative Platinum Jubilee Year on June 1, 2021.
Dr. Ashish K Ray, former Head, Beam Technology development group, BARC and classmate of Dr. Banerjee at IIT Kharagpur and BARC Training School talked about his family stating him as a very generous person who also had love for literature apart from sciences. Dr. J.V. Yakhmi, former Head, Chemistry Group, BARC talked about Dr. Banerjee's accomplishments as a professional who not only learned from his talented colleagues, but also to did several things by interacting with them and acknowledged his accomplishments as the fruits of hard work contributed by each of his co-workers and his tireless work for promoting science education at all three levels, school, college, and research.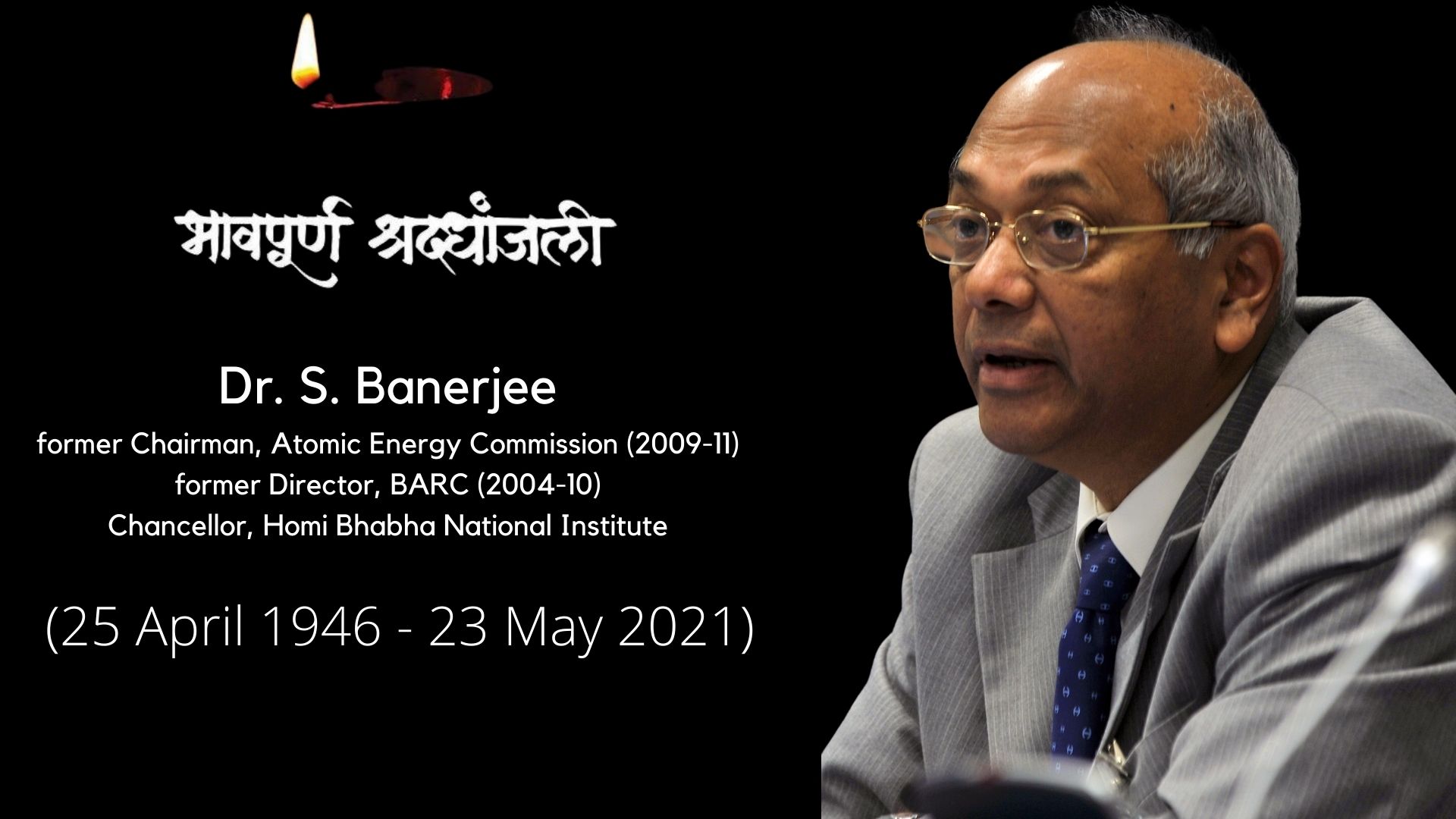 Dr. Anil Kakodkar, former Chairperson, AEC also called Dr. Banerjee as the most distinguished physical metallurgist. He always encouraged making a connection between basic research and the translating them to technologies to actual applications, which would benefit the nation and its economy. Dr. Sur remembered Dr Banerjee as a gifted metallurgist, nuclear scientist, and a visionary leader who rekindled the flame of friendship and nuclear cooperation between India and Canada. Prof. S Ramakrishnan talked about research activities that flourished in TIFR during his tenure as the chairman while he was holding position as a director of BARC. Dr. P.R. Vasudeva Rao called Dr. Banerjee as a great scholar who deeply thought about every difference on the house, always ready to share his knowledge and ideas. He was also an avid reader and learner and a great mentor for students. The meeting was attended by many other eminent persons including Prof. N Sathyamurthy, founder Director, IISER, Mohali; Dr. S M Yusuf, Director, Physics Group and former President, IPA; Dr. Ajay Sood, FRS, former President INSA and IASc., Indian Institute of Science, Bangalore; Dr. Kanjilal, former Director, IUAC, New Delhi and former President, IPA; Dr. Manjit Singh, former Director, TBRL, Chandigarh and Ramgarh; Prof. Ajit Kembhavi, former Director, IUCAA, Pune; Prof. Arvind, Vice Chancellor, Panjabi University, Patiala; Dr. Rakesh Kapoor, Director, Homi Bhabha Cancer Research Institute, Chandigarh; Prof. Archana Sharma, CERN, Switzerland; Dr. Shekhar Mishra, Fermi Lab, Chicago, USA; Dr. S. Anantha Ramakrishna, Director, CSIO, Chandigarh; Dr. Amitava Patra, Director, INST, Mohali; Prof. Sunil Mukhi, Co-convenor, Bhabha Centenary Symposium (2009), IISER, Pune; Prof. Vivek Datar, TIFR and BARC; Prof. R.G. Pillay, Raja Ramanna Fellow, IIT Ropar; Dr. Hiren Ghosh, INST, Mohali.  Everyone invariably talked about his passion for work and understanding of linkage of basic sciences to an eventual technology. It is a void that cannot be replaced. He would always be remembered as an extraordinary person who would put his heart complete every task he took and has inspired many.
Watch the Complete Session