Sky watching workshop organized by SPSTI was held on 14th of November at Physics department of Panjab University. Two telescopes were set up under the guidance of Prof. Sehajpal, who is a professor in physics at Panjab University. We were operating equatorial mount reflector telescope of magnification 125X.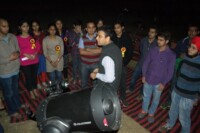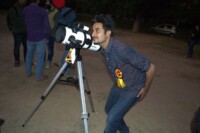 More than Three hundred students along with their teachers had come for sky watching. All the volunteers of SPSTI were working cordially to manage the curious viewers. First we located planet Mars in the sky using our GPS and then focused our telescope on it. Then students came one by one in a queue and looked through the eye piece. They all were very inquisitive so they started asking their queries. We explained to them that how the telescope worked, how to distinguish between a planet and a star and how far do they lie. The medium of communication was English as there were students from various states. After showing Mars We located planet Neptune and focused our telescope on it. It was a very tedious job to track Neptune manually as its magnification is too low and it moves continuously owing to its revolution around sun. Students were amazed to see how the planet Neptune was moving while a star lying adjacent to it was stationary.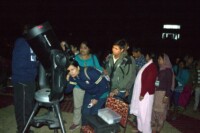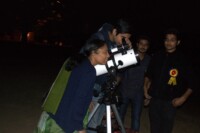 Professor Sehjpal on the other side were operating high magnification telescope. Mr.Dharamvir, president of SPSTI and alumni of IITKGP had also come to give an overlook at the scenario. Prof. Keya Dharamvir, who is also a professor in Physics at P.U., was also guiding the students. Prof. Suman Baeri, who is well known for her association with LHC project of CERN, was also there.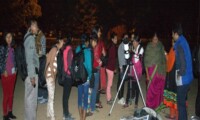 The feedback from students and their teachers regarding the workshop was positive and they were demanding for more workshops like that to be organised. We felt very satisfied after seeing the new inculcated curiosity in them.
Such workshops should be organized more often as they give the students a chance to think practically, rather than believing blindly in the theory. They analyze how the things actually happen in reality.