Amid Coronavirus Pandemic, the Society conducted live streaming of annular solar eclipse from the line of maximum eclipse, Village Sirsla, District Kurukshetra (Haryana).
Prof. Keya Dharamvir, Principal Investigator, Mobile Science Laboratory and General Secretary, SPSTI, organized the camp to live telecast the view of annular solar eclipse in which Former Chief Secretary of Haryana & President, SPSTI, Sh. Dharam Vir, IAS (Retd.), Er. Anuj Goel, Manager, Mahi Paul Sharma, Coordinator along with team of Circus of Science were present.
On June 21, 2020, the world enjoyed a wonderful astronomical event. This is the day that astronomers eagerly waited for. The solar eclipse itself is a very beautiful celestial event to watch. There are different stories in different countries regarding solar eclipse. At the same time, astronomers consider it to be just a coincidence in which the Moon while orbiting around the earth happens to come between the Sun and the Earth, due to which the Moon covers the Sun. This is called eclipse. During Annular Solar Eclipse, the distance of the moon is farther from the sun than usual due to which it is unable to cover the sun completely. Due to this phenomenon, sun appears as a bright golden ring as called "the ring of fire".
There are three types of solar eclipse; partial solar eclipse, annular solar eclipse and full solar eclipse, depending on the position of the moon with respect to the sun and earth.
The solar eclipse of June 21 falls in the category of annular solar eclipse. The line of maximum eclipse originated from Pacific Ocean, and passed over from Taiwan, China, Uttrakhand, Uttar Pradesh, Yamunanagar, Kurukshetra, Kaithal, Fatehabad and Sirsa in Haryana, some areas of Rajasthan, Pakistan, Oman, Saudi Arabia, Yemen, Ethiopia, South Sudan,  and finally in Africa.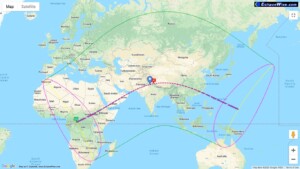 Location & Timings of Coverage of Annular Solar Eclipse:
Village Sirsla, District Kurukshetra (Haryana)
Geographical Coordinates: 30.0119903, 76.8636959
Start of Eclipse: 10:21 AM
Start of Maximum Annular Eclipse: 12:01:24 PM
End of Maximum Annular Eclipse: 12:01:56 PM
End of Eclipse: 01:47 PM
During the live telecast, following Professors were invited to discuss the phenomenon of eclipses:
M.S. Sriram, Madras University, PI, DST Project on Eclipses in Ancient Indian Texts
Dilip G. Kanhere, Professor Emeritus, Savitribai Phule, Pune University (Director, Science Museum, Pune University)
Rajesh Kochhar, Honorary Professor, IISER Mohali and Panjab University
Suman B. Beri, Professor Emeritus, Panjab University, Chandigarh (Ex-Scientist, CERN Jeneva)
Sandeep Sahijpal, Panjab University
Harvinder Kaur Jassal, IISER Mohali
The following students also participated in the discussion
Tanmay Gupta, Final Year Student from Kaulampur
Shomick Adhicary, Research Scholar from IISER Pune
Deputy Commissioner of Kurukshetra, Sh. Dhirendra Khadgata, IAS also joined as guest during the live stream and watched the solar eclipse. Shri Dharam Vir paid a vote of thanks to him for supporting the event.
The live webcast started at 10:20 AM with Mr. Mahi Paul Sharma introducing the event and Er. Anuj Goel while explaining the world map pointed out that how lucky we are to watch the eclipse from the line of maximum path. Prof. Keya Dharamvir presented a few slides with diagrams to explain the occurrence of a solar eclipse when moon's shadow falls on the earth and how the three types of eclipse are distinguished.
Next, Prof. M.S. Sriram pointed out that Indian scholars have been observing and recording eclipses for the past at least 1500 years. He described with the help of slides how they predicted the future eclipses with great accuracy. Next, Prof. Kanhere said it was a matter of pride and progress that whereas 50 years ago during an eclipse, the neighborhood elders drove everybody inside and streets were deserted, today there is great enthusiasm to observe the eclipse. Even uneducated sections of the society show keen interest to understand the phenomena. Prof. Suman Beri applauded the audience for joining in such large numbers and remarked on the myth that during eclipse it is "forbidden" to go out; finding explanation in the fact that it is injurious to the eyes to look-up at the sun and during an eclipse it is tempting to do so. Prof. Kochhar also commented on the shastrik injunction of many do's and don't's during eclipses saying these were formulated earlier than 1500 years ago i.e. earlier than the time when, as Prof. Sriram said, Indians understood the trajectory of heavenly bodies and eclipses. He also said this is an occasion to sift science from pseudoscience.
Prof. Sandip Sahijpal sent the video recorded by him at the Panjab University, Chandigarh where the eclipse was partial.
Shomick Adhicary, a student at IISER Pune explained how during an eclipse in 1896, Eddington first verified Einstein's general theory of relativity, showing the bonding of light rays around the sun.
Tanmay Gupta, a final year school student at Kaula Lumpur showed some of the eclipse photographs taken by him a few years ago at Singapore during a total eclipse. He discussed some of the techniques used. Prof. Harvinder Kaur Jassal said that eclipse watching is not only informative, but also addictive.
The panel of experts also fielded a number of questions from the viewers.
Methodology:
People present at the site watched directly with the help of special glasses acquired from Science Museum, Panorama, Kurukshetra.
Projection of Image using Celestron Power Seeker 700/60mm Refractor Telescope which was streamed live on Facebook and YouTube channels of the Society. The telescope was set-up with guidance from Prof. Sandip Sahijpal
During the webcast and later we received many remarks on Email, WhatsApp and Social Media. Many of them said that our program was better (more informative and comprehensive) than most of the television channels. Some complained about the quality of audio in the live stream.
The Coverage was streamed on Facebook and YouTube Channels at links below:
Facebook: www.facebook.com/spsti
YouTube: www.youtube.com/circusofscience
More than 3000 people from all over the country joined and also interacted with the experts.