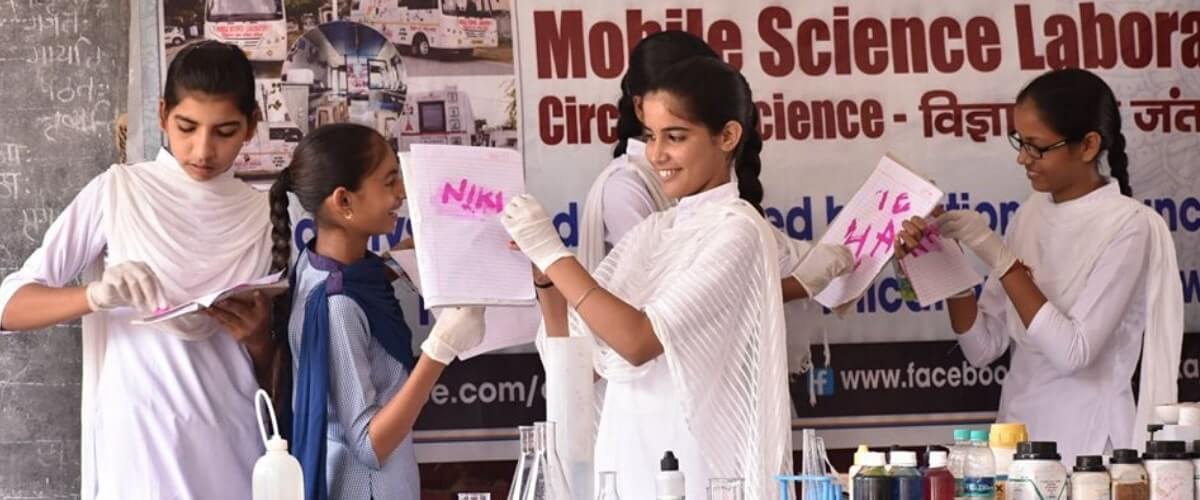 Circus of Science in Kurukshetra
The Mobile Science Laboratory – Circus of Science with support from National Council for Science & Technology Communication (NCSTC), Department of Science & Technology, Government of India, operated in District Kurukshetra for two years (2018-2020). The Lab started its operation in September, 2018 and visited all the government high and senior secondary schools at least once. There are five blocks viz. Thanesar, Ladwa, Babain, Pehowa and Shahabad in district Kurukshetra, all within 40 kilometers of the region. The route plans were prepared in collaboration with district education authorities on block-wise basis.
No. of Boys who interacted
No. of Girls who interacted
Activities conducted in the district include:
School visits including Government High Schools & Government Senior Secondary Schools, Click here to view the list of schools visited in district Kurukshetra. The lab has visited one-hundred-twenty-nine (129) government schools and interacted with 10,480 boys and 10,382 girls.
The Evening Community Interaction Programs were conducted in the villages of the district. Twenty-three villages in Thanesar & Shahabad blocks were visited in December 2018, January 2019, January, September and October 2020. More than 1300 people were engaged in these social awareness sessions.

Click here for details

Career Awareness Programs: Mobile Science Laboratory initiated career awareness programs in villages of district Kurukshetra. Click here to check the details
Haryana State Teej Festival was celebrated by Haryana State Council for Child Welfare on August 03, 2019 at Kurukshetra University, Kurukshetra. The Mobile Science Laboratory arranged its display of equipments for the students and engaged students in scientific activities. Click here to check the details
International Gita Mahotsav (November 23 -December 10, 2019) is celebrated every year at the banks of the Asia's largest Sarovar; The Brahmasarovar. Lacs of people from India and abroad visit this cultural festival . The Circus of Science set-up its exhibition for seventeen days during the Mahotsav: Click here for more details
The notorious Coronavirus pandemic has created a huge stir in the society and affected the daily life of one and all. The volunteers of the Mobile Science Lab visited twenty-two villages in district Kurukshetra and worked for creating awareness about the COVID-19 among the people. Several campaigns were launched including distribution of masks, motivating people to wear masks, use sanitizers and maintain social distancing. People were also made aware of use Arogya Setu App to combat the COVID-19.
Online Essay-writing & Poster-making competition on "Coronavirus – Problems & Solutions" were conducted to engage the students in educational activities amid lockdown in the months of April – May, 2020. More than 2100 students from seventeen states of India participated in these contests. Twenty-three students were awarded cash prizes and participation certificates were given to all the participants. Click here to view the details.  |  Results of Essay Competition on COVID-19  |   Results of Poster-making on COVID-19
World Environment Day 2020 was celebrated by inviting students to participate in plant-a-tree campaign that was launched online. More than 460 students participated by sending their photographs with their plants. Click here to view the details.

The results of the essay and declamation competitions held on environment day 2020 can be accessed at :

Results of World Environment Day 2020.
The world witnessed Annular Solar Eclipse on June 21, 2020. The Society arranged Live Telecast of this rare celestial event from the line of maximum eclipse in a village near Kurukshetra. More than 3700 people joined live on Facebook & YouTube channels of the SPSTI. Click here to view the details.